If you need a new A/C installation in Las Vegas, Discount Air Conditioning & Heating, Inc., can install the best cooling system for your home. We'll come out and inspect your HVAC set-up to determine if a new air conditioner is what you need. Then, we'll help you choose a new system with the tonnage, BTU, and efficiency ratings you require so you get the comfort you want without overpaying for what you don't need.
From cooling unit removal to your new A/C install, we work hard to make this a hassle-free experience.
Advantages Of Upgrading Your A/C Unit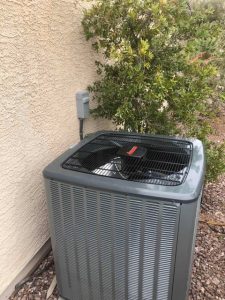 If your air conditioner is old and run down, replacing it might make more sense than repairing it. Replacing your A/C unit may seem like a costly solution upfront, but we offer convenient financing solutions to help alleviate the stress of unexpected A/C repairs and replacements.
Avoid Frequent Repairs
Enjoy Better Temperature Regulation
Increase Your Property Value
Cut Energy Costs
Reduce Your Carbon Footprint
What System Is Right For You?
We can help you choose and install an AC unit in your newly constructed home – whether you need a ground, rooftop, or split system AC. Getting the right system outright will save you money and keep you from paying for problems down the line.
You can trust us to help you identify the right size and type of HVAC system and install it safely and hassle-free. We can even program your thermostat or upgrade it at the same time.
Get The Right Type Of Unit
A Capacity Right For Your Home
Energy Efficiency A/C Units
Cooling Features You Need
Should You Repair Or Replace An A/C Unit?
If you live in Las Vegas, a properly functioning air conditioner isn't a luxury- it's essential in the summer. Getting your new unit professionally installed is critical to ensure safe operation and a cool, relaxing indoor climate for years to come.
So, how can you tell when it's time to update, upgrade, or replace your AC?
It Isn't Cooling Properly
It Sounds Loud Or Makes Funny Noises
You Smell Strange Odors When It Runs
It Is 10+ Years Old
You Have Increased Your Electric Bills
It Creates Excessive Humidity
It Uses R-22 Freon
It Breaks Down A Lot
We Install Reliable HVAC Brands
At Discount Air Conditioning & Heating, achieving customer satisfaction and retaining your trust are among our most important business goals. Because of this, we carry products from the most trusted names in HVAC systems, including Amana, Trane, Carrier, and Goodman.
Different Types Of Air Conditioners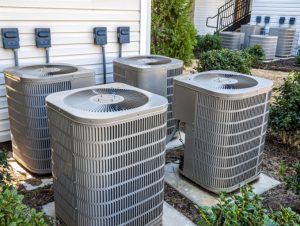 There are two main types of HVAC units: standalone and split-system units. Standalone cooling units are cheaper and easier to move around, but they're noisier, have a lower capacity, and require an air vent to expel hot air. Split-system A/C units are more costly but typically quieter and can cool your house more quickly and efficiently.
Many types of HVAC units are on the market, and some of these units work great in mobile homes. When you work with a home cooling and heating professional, you can ensure that the air conditioner you get is the correct type and capacity for your specific home or building size.
Central Air Conditioning
Wall-Mounted Unit
Floor-Mounted Unit
Ceiling A/C
Packaged A/C System
Ductless Mini-Split Unit
Window Units
The Amana Advantage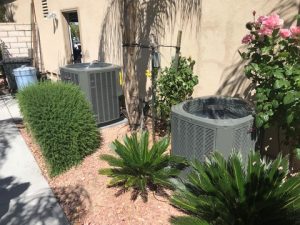 One of the great HVAC brands we are pleased to offer our Las Vegas clients is Amana heating & cooling systems. This company represents American Pride with products designed, engineered, and assembled in the U.S.A. Amana air conditioning units are built to last, including a Lifetime Limited Warranty on the compressor.
High-Efficiency Systems – From 14 To 24.5 SEER
Heavy-Duty Construction
Innovative Technologies
Quiet Operation
Quality Units By Goodman
Goodman is an exceptional HVAC company whose products we are pleased to recommend and install. A leading name in home cooling, Goodman has been an industry leader in building energy-efficient units for homes big and small for decades.
High-Efficiency Systems – From 14 To 24.5 SEER
Powder Coated Finishes
Advanced Construction – Coil Guards & Filter Driers
Quiet Operation
Get Quality A/C Installation When You Replace Your Unit
Don't wait to replace your air conditioner on its last leg. Start right in your new home with an A/C installation that's right for your space. Let Discount Air Conditioning & Heating in Las Vegas keep you cool all summer long. Contact us today and schedule an appointment. Our HVAC specialists are looking forward to discussing your new or replacement cooling needs with you.